HEALTH
2021/07/30
Fucoidan Health News August: 5 Tips For Better Living With Diabetes


Nearly 34.2 million people are currently living with diabetes in the United States of America alone, and 88 million people are prediabetic. So, you are not alone if you are diagnosed with one.
It's a well-known fact that poorly controlled diabetes could lead to severe consequences such as liver and kidney failure, diabetic foot ulcers, blindness, and more. However, these are largely preventable. So, can you lead a normal life if you are diabetic? Of course, it is possible! Here are some tips to prevent these complications and for healthy living with diabetes.
1. Routine checkups
Diabetes checkups are an important part of diabetes care. It includes glucose control, foot care, weight, and keeping a diary, which helps assess the risk of diabetic complications at an early stage.
2. 30 Minute Workouts
Get at least 150 minutes of simple home exercises per week to maintain their health, cardiopulmonary functions and blood sugar.
3. Take your medication on schedule
Even during this pandemic, patients should adhere to their schedules and pay attention to their blood sugar levels. Take medications on schedule and remember not to adjust the dosages or stop the drugs without proper medical advice. Ensure that there are enough medications to last through weekends or holidays.
4. Quit smoking
Smokers with diabetes are at higher risk of serious complications, including heart and kidney disease, retinopathy, lung cancer, etc. Quitting smoking will help you become healthier.
5. Better Emotional Health With Diabetes
Diabetic patients are prone to stress due to emotional distress, treatment, and other problems that affect blood sugar control. To sustain self-health management would require learning to destress and gain support from their loved ones, such as exploring and enjoying diabetes-friendly dishes together, exercising together, etc.
With treatment and self-management strategies, you can stay away from diabetes complications, live with better freedom.
The Best Exercises to Do While Watching TV
Knee Extension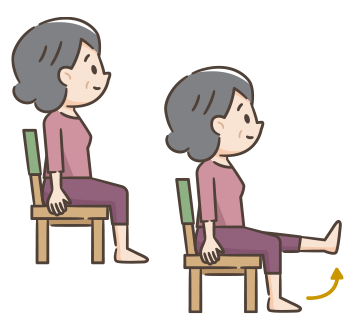 Sit on a chair and slowly raise one foot as far as possible to straighten your knee
Slowly lower it
Repeat the movement alternately with both feet
*If necessary, use a towel to support your knees
Best time to exercise
1-2 hours after a meal
With 5-10 minutes warm-up exercise
Resistance exercise for 2-3 days a week
150 minutes of moderate-intensity aerobic exercise every week
Back to the list