Our Story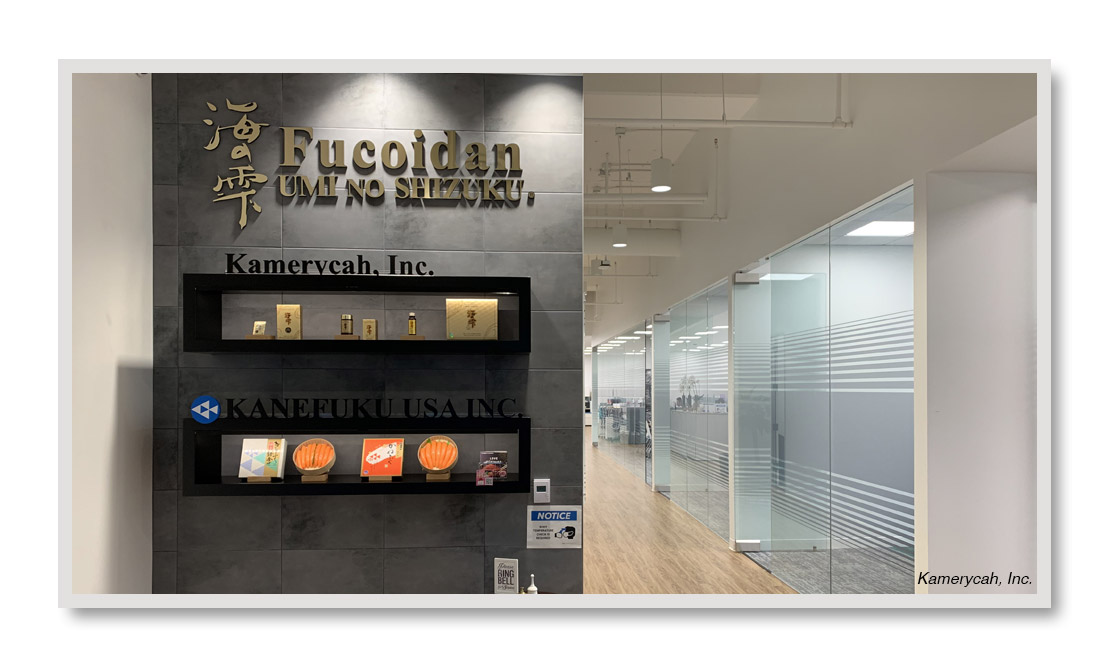 Message from the CEO
My grandfather Shozo Takeuchi founded Kanefuku, our parent company in 1971, and quickly grew to become the leading marine products manufacturer in Japan.
While expanding the business, he became terminally ill. Eventually, he succumbed to his disease, which has since driven two generations of my family to search for the answer to better health and wellness.
When my father Hideyuki took over the seafood business, it was his mission to find natural marine products that would support lifelong well-being and offer hope to others battling against diseases. When my father was introduced to Okinawa mozuku, he saw great potential within its extract "fucoidan" and firmly believed that fucoidan could help people worldwide. With his hard work and dedication to research, our first fucoidan product, "Umi No Shizuku," was born in 2002. The brand's name Umi No Shizuku means "a drop of the sea", and it reflects our gratitude toward the ocean's bounty that keeps providing to human beings, as well as the rarity of our ingredient; fucoidan.
Kamerycah, Inc. was established in Los Angeles in 2003 with the mission of expanding research and development into the health benefits of fucoidan. Since then, we have expanded our wings globally to Canada, Hong Kong, South Korea, Taiwan, Singapore, and Vietnam.
For the past years, we have dedicated ourselves, in conjunction with national universities and the NPO Research Institute of Fucoidan, to finding the best natural treatments for whoever is in need. Our fucoidan supplement Umi No Shizuku has become a well-known brand in 45 countries because people trust our expertise and commitment to providing only high-quality fucoidan products.
We began as a family company with the simple goal of delivering trusted products that make our customers feel good. Although our company has grown, this remains the core mission of everything we do at Kamerycah, Inc.
Hideaki Takeuchi, CEO
Kamerycah, Inc.
Helping our customers feel good inside and out while inspiring hope and optimism.
Our values
Always Be Grateful
No one person can ever fully achieve anything by himself or herself, so we must be sure to remain humble, to never be arrogant, and to always have within our hearts an appreciation for those around us and the contribution they make to what we achieve. This mindset should cover everyone from teammates to other teams and the customers who rely on us. Extending a hand of help to those who need it, this is the way that Kamerycah works.
Uphold Transparency and Integrity
We understand that choices about personal health and wellbeing are some of the most important decisions a person will make for themselves and their family. Providing honest products begins with upholding the value of honesty throughout all aspects of business. From Kamerycah, Inc.'s employees to our customers, we pledge to always be honest and transparent as we work together to create the best natural products to improve all aspects of a person's life.
Respect and Celebrate Diversity
As an international company with employees and customers around the globe, we know the importance of diversity. We celebrate the things that make us different and understand that each of our customers are different as well. At Kamerycah, Inc., our strength lies in our diverse workforce that helps us to better understand diverse needs from within, helping us make better products that respect the unique needs of our global customers.
Company Name

Kamerycah, Inc.

Street Address

21250 Hawthorne Boulevard, Suite 150
Torrance, CA 90503
U.S.A.

Business

Sales of health food products.

TEL

310-944-9870

FAX

310-944-9871
Canada Branch

Kamerycah Trading(Canada) Ltd.
200 Consumers Rd. Suite 506
North York, ON, M2J4R4 Canada
TEL:416-498-1888