Essential Nutrition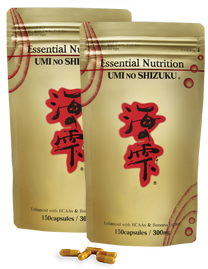 Umi No Shizuku Essential Nutrition is a product developed for more effectively support health when taken together with fucoidan. It combines banafine and other select ingredients in a nutritional supplement that is optimal for people experiencing suppressed appetite or suppressed physical energy.
Combined effect with fucoidan
Ingestion of Umi No Shizuku Essential Nutrition with fucoidan creates a synergy that promises increased effectiveness.
Three major effects of Essential Nutrition
1.

Recovery from fatigue

Banafine promotes mitochondrial activity and boosts metabolism.

2.

Muscle repair

Branched-chain amino acids (BCAAs) encourage the synthesis of muscle cells.

3.

Immune support

Banafine, vitamin C, zinc, and arginine support maintenance of immunity.
Umi No Shizuku Essential Nutrition
$50.00
Content: 45g (300mg × 150 capsules)
Main ingredients
・Banafine (enzyme extracted from the ends of fermented green bananas)
・Branched-chain amino acids (BCAAs): leucine, isoleucine, valine
・Calcium, zinc, selenium
・Vitamins (A, C, D, E)
・B vitamins (1, 2, 3, 5, 6, 9, 12)
Supplement Facts
Product number: EN2
Frequently asked questions about Essential Nutrition
Q
What sort of persons should take Essential Nutrition?
A
・Persons concerned with malnutrition, nutritional disorders, muscular degeneration, etc.
・Persons experiencing fatigue or malaise
・Persons who wish to maintain health
・Persons of advanced age
*Please do not use, it if you have banana allergies.
Q
How should I take Essential Nutrition?
A
We recommend ingestion after a meal.
Q
How much Essential Nutrition should I take?
A
The recommended intake is 5 to 10 capsules per day.
Customer Support (English Line)
Toll-Free: 1-888-316-3033
310-944-9842