SHOP
2020/08/21
UMI NO SHIZUKU recieved Monde Selection GOLD & SILVER Quality Awards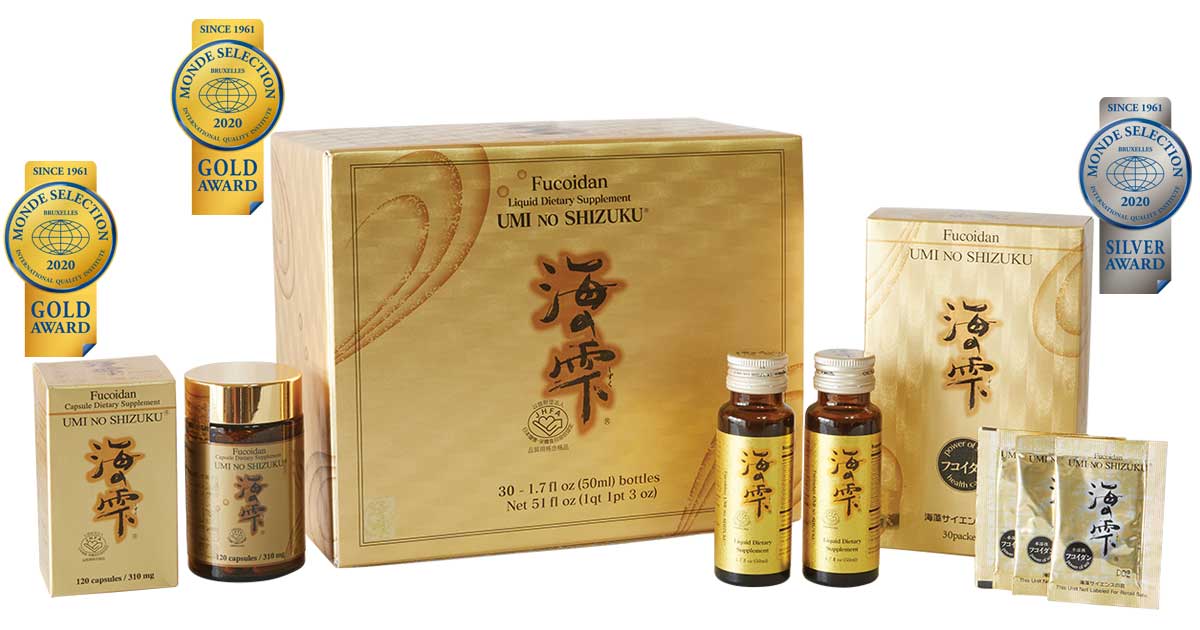 UMI NO SHIZUKU DIETARY SUPPLEMENTS RECEIVE MONDE SELECTION GOLD AND SILVER QUALITY AWARDS.
UMI NO SHIZUKU Fucoidan has been awarded the Gold Medal at Monde Selection 2020, an international quality evaluation organization. The panel of experts from Monde Selection, an independent quality evaluation organization, rigorously evaluated Umi No Shizuku Fucoidan in terms of ingredient content and quality, and awarded Umi No Shizuku Fucoidan the Gold Medal (the second highest rating) for the capsule and drink types, and the Silver Medal (the highest rating) for the powder type. Safety and quality are the most important factors to consider when choosing a supplement. Now that UMI NO SHIZUKU Fucoidan has been highly evaluated by a third party organization for ingredient content and quality, you can feel even safer about using the product.
ABOUT MONDE SELECTION
Founded in Brussels in 1961, the International Quality Institute Monde Selection has been certifying the quality of consumer products from all over the world for 59 years. The mission of Monde Selection's Diet & Health jury is to verify the correspondence between the nutritional qualities of a product and the announced commercial claims. All the commercial claims need to be appropriate and substantiated by scientific evidence. Monde Selection also relies on the official European and American norms when carrying out quality controls. Monde Selection works in close collaboration with accredited laboratories such as ECCA, Brucefo among others to conduct specific analysis on the products.
Monde Selection Official Site (English)
Back to the list